By Debora Timms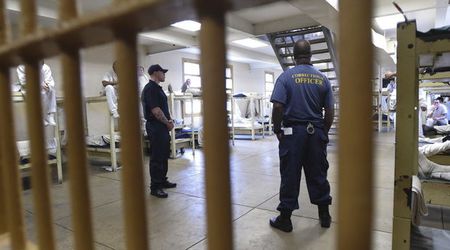 When we think about first responders, certain images probably spring to mind – the firefighter or police officer in uniform responding in an emergency, or maybe an EMT working to save lives at the scene of an accident. Not many people think about correctional officers, but they serve the public on the front lines as well.
"The public, and even many legislators are not well educated about what happens behind the walls," Donald Baylor said in a recent phone interview. Baylor serves as an organizing director for the National Coalition of Public Safety Officers (NCPSO) in Virginia.
"Correctional officers have to show up every day and they risk it all to do the job," he continued. "People think about us if they see a prison on TV or drive past a razor wire fence. The rest of the time, we are out of sight, out of mind."
When Baylor talks about the job, he speaks from experience. He retired in 2004, after having worked 27 years as a correctional officer for the Virginia Department of Corrections (DOC). Now, he lobbies the legislative branch of the General Assembly to try to improve conditions for officers on the job.
Baylor says protection is the most important responsibility of a correctional officer. Protection of the general public, as well as those who are entrusted into their care while they are incarcerated. One of the main issues that impacts these officers' ability to do their job is understaffing.
"Ever since I've been in corrections, we've always had shortages," Baylor said. "But it continues to get worse, and it continues to get more difficult to find the people who will come and do this job and stay in this job."
Being a correctional officer is both dangerous and difficult. Officers are exposed to violence almost daily, leading to high levels of stress and high rates of depression.  According to a 2018 report by researchers at University of California, Berkeley's Goldman School of Public Policy, correctional officers are at a high risk for Post-Traumatic Stress Disorder (PTSD) and suicide. The report, which focused on California state prisons, showed that 10 percent of correctional officers had thoughts of suicide. That is more than double the national average for adults published by the National Institute of Mental Health in the same year.
It is also a big reason that turnover in the job is high. The NCPSO began tracking turnover in Virginia in 2012. They lost 1,077 officers that year, and the numbers have increased each year since. In 2019, it was 1,590 officers.
Baylor points out that when it takes more than $18,000 to train an individual officer for a year, the problem of retention is also a costly one.
In a 2018 article in the Washington Post, Del. John Bell (D-Loudoun) said that Virginia could save money and cut down on job turnover by improving pay and benefits for correctional officers. At that time, he said nearly 20 percent of the state's 5,800 correctional officers would qualify for food stamps based on their income, and that some prisons were seeing turnover as high as 49 percent.
"Right now, corrections officers are some of the lowest paid uniformed public safety officers in the Commonwealth," Baylor said. "[The NCPSO] have pressed every year to raise the standard of living and have gotten some gains in the past few years, but it's not significant."
This year they saw some wins in the General Assembly. In March, HJ 29 passed the House and Senate. It establishes a joint committee to study staffing levels, employment conditions and compensation at the Virginia DOC.
Additionally, Virginia Gov. Ralph Northam signed HB 169 in April. This will add correctional officers to the list of public safety employees who are entitled to the presumption that certain diseases, such as hepatitis or HIV, are occupational for workers' compensation.
Baylor acknowledges these are steps forward and will give correctional officers some of the same protections that other first responders have had for decades, but he added that the extraordinary situation caused by the coronavirus has dissipated some of their gains, and added tremendously to officers' already stressful jobs.
For example, it is difficult, if not impossible, to practice social distancing and the other guidelines the CDC recommends in a congregate environment like a prison.
Recognizing the heightened risk to officers, staff, offenders and residents, Baylor called on the governor last month to immediately test everyone within the DOC and the Department of Juvenile Justice (DJJ).
Baylor said that many officers are scared. While they want to keep working, they also want to know that every possible step is being taken to protect them and their families. These actions will also serve to protect the general public since correctional officers are a gateway between the prison population and the wider community.
As of May 15, the DOC has reported 72 positive cases of coronavirus among staff and 872 among offenders. Added to that total are 19 staff and 30 residents reported by the DJJ. So far, the governor has only ordered full testing at some facilities.
Baylor hopes that the study authorized by the General Assembly will help to move correctional officers out of the shadows and into the same picture with other first responders in the minds of Virginians. He believes that recognition will help in pushing forward on the higher compensation and better benefits that will address the issues of understaffing and retention.
"Correctional officers are public safety professionals," Baylor said. "They do a critical job and they deserve the same level of respect and recognition as anyone else in public safety – and that includes pay."