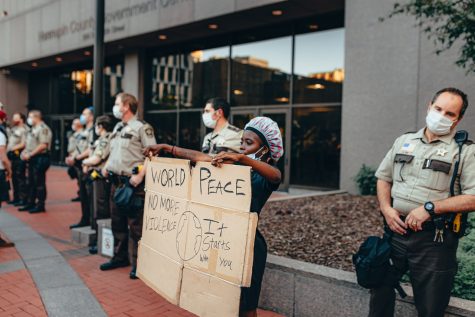 "Talk is cheap!" It costs nothing. And there's a whole lot of folks doing a lot of talking right now. Time will truly tell if all you want to do is talk because as the old folks say, "Actions speak LOUDER than words!"  Given that we have to begin somewhere, some might say it is necessary to begin with talking to one another. However, if you're standing with your foot on my neck, how can we begin a conversation? Before we can begin to talk, you must remove the symbolic and literal weapon that stops me from freely exercising my humanity, my right as a human being to breathe, to speak, to fully BE Who I Am. Black people in this country are tired of just "trying to survive", tryin' just to live another day.
There are a lot of so-called "statements" being made right now, by the same folks who, just the other day, were in denial of the fact that racism is alive and well in United States of America, with all of the same virulent toxicity it had in the 1950s, 60s, 70s, 80s, 90s to the present. "Statements" that NOW denounce racism, and the murders of Black people by the police and vigilantes, are being made by businesses large and small, academic and arts institutions, groups and organizations, individual public figures, community and political leaders, and even some religious institutions have made their perfunctory public "statements." All are collectively denouncing the abhorrent public and deliberate asphyxiation death of George Floyd, by (4) Minneapolis Police Officers in a city street on Memorial Day. Some "statements" were made within a day or two, while others took a bit longer and still others were excruciatingly delayed and then finally made. The choice to speak out against this inhumanity was a relatively easy one to make, but then when several of these "BIG" players also proclaimed that Black Lives Matter that's when things got real.
Young people led a multi-racial, multi-generational seismic protest very specifically aimed at the legacy of anti-Black and Institutionalized Racism in America, acknowledging the fact that racism IS in the American DNA. These young activists were dedicating themselves and their bodies, standing on their 1st amendment right to call out AMERICA and the "powers that be" to begin the process of systematically and intentionally dismantling White Supremacy, anti-Black racism, and the systemic and institutional polices, and practices that hold it in place. These young activists took on the mantle of the youth protests of the 1960s and 70s proclaiming that they were committed to REAL CHANGE. They have plans, they have demands and they shout in one voice "No Justice No Peace!" And the whole world has joined them!
For the next week, marches and rallies happened all over the world where millions of people from all ages, races and ethnicities proclaimed in one voice that Black Lives Matter! America is now under the white-hot light of TRUTH where all her blemishes, false promises, and unequal systems of justice have been exposed for the whole world to see. So now what comes next?
If America is to seize this moment and finally begin to live up to the aspirations of her creed; Life, Liberty, Freedom and Justice for All, WE, the People MUST stand up and demand the fundamental changes in government, institutions, economic, social and political systems and leadership to move us forward. America has failed thus far, and that must be acknowledged. We are

NOT great! We cannot continue as we have been if we are to survive. In order to move us forward, WORDS are not enough. Half-hearted and compulsory "statements" are not what we need. We need to get off the endless cycle of temporary "wokeness" and the continual denial of the trauma, state-sponsored terror, injustice and inequality that Black people have been living for 401 years in this country.
Action is what is needed from Roger Goodell and the NFL. Acknowledgment of the wrong you have done, and the apology to Black people is the beginning, but there MUST now be Restoration and Reparation. If Colin Kaepernick was right, then he deserves to be reinstated and compensated for his lost wages. THAT is more than just words!
Everyone who has made a "statement", every institution and organization…what are you going to DO? Time will tell!