By Bernard Freeman
DÉCOR: Set a Summer Table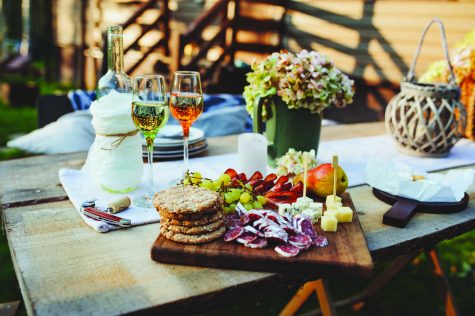 In the same way we decorate the dinner table with a nice centerpiece, there are ways to make your patio table inviting for summer meals.
Whether you're having a simple family dinner on a weeknight or hosting guests, why not put a stylish touch on your outdoor dining table this season.
It can be as simple as a vase with fresh flowers or as involved as an all-weather runner with coordinating placemats, flower arrangements, glassware and linens.
From the Garden
Summer is a great time to use the bounty of the season in your centerpieces. Fill a tall vase with lemons or limes and add water, with matching fresh flowers on top. Slice the fruit for extra detail. A simple option is a cake stand or pedestal platter holding a selection of fresh, washed fruits.
A Natural Look
Other ways to bring rustic, natural touches to your patio table are to use a simple jute or burlap runner, topped with a galvanized bucket planter filled with blooms. This pairs nicely with plain white tableware and simple glassware. Add plain white napkins tied with burlap string to complete the look.
Achieve a different natural-look centerpiece with a wood bottle carrier. Fill each compartment with a Mason jar or glass soda bottle filled with fresh flowers.
Glamour
For a glamorous look, place crystal bowls filled with fruit down the length of the table. Add crystal goblets and linens in jewel tones and crystal taper candle holders. Another chic look is a centerpiece made of a garland of lush greenery, accented with gold candle holders with white candles, glass goblets and matching green and white linens.
Keep it Simple
If you're just looking to punch up your meal a tad, buy jewel-toned glassware in an array of styles. Pair the glassware with simple white tableware and linens for a simple, colorful aesthetic. Another simple look is a plain glass vase with a few wide-stemmed flowers such as white calla lily, paired with plain white tableware and linens.
If you do nothing else to spruce up your outdoor space, use a container you already have in your backyard — a galvanized watering can, a wood crate or a metal lantern — as a makeshift vase at the center of the table.
INDOOR COMFORT: Choosing a Room AC Unit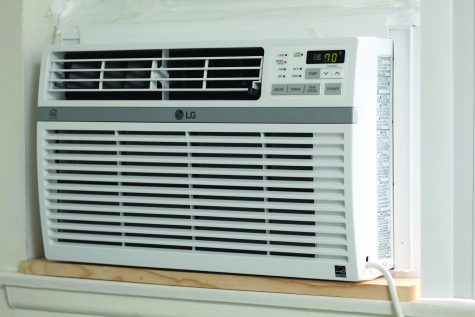 If your home doesn't have central air conditioning, a room unit can help cool things off. There are many available models to meet various needs, so you'll need to do some research to pick the right unit.
New Features
An EnergyStar-certified room air conditioner can cost less than $75 per year to operate, according to the Environmental Protection Agency, with new variable speed technology saving more energy than in the past. EnergyStar-certified units include more sealing material around the opening than other models, to better keep cold air in. There are even models available with smart home-type features that allow the user to turn them on and off remotely, set temperature schedules and get information about how efficiently the unit is operating. Many units also are capable of "smart grid" features, allowing them to be cycled on and off by the power company to provide savings to the customer and conserve energy during peak demand.
Sizing
The cooling capacity of room air conditioners is measured using British Thermal Units. Depending on the size of your room, your unit will need a minimum BTU rating. For example, a 200-square-foot room will require a unit with a minimum 6,000 BTU rating, while a 500-square-foot room will need 12,000 BTUs. Additional factors to consider in the calculations include whether the room tends to be sunny or shaded, as well as how many people typically use the room and how the room is used. View the EPA's sizing guide for tips on measuring the room and to calculate which size unit you need.
Ductless Systems
A ductless air conditioning unit is a wall-mounted unit that uses an outdoor compressor. They are very efficient and less prone to air leakage, according to HGTV.com, and buying an EnergyStar-certified model can save 30% on cooling costs. Some models also can provide heat, as well.
Ductless AC units are, however, considerably more expensive than window units, making them a long-term investment for which you'll have to wait to see a return in the form of lower energy bills. They also require monthly filter maintenance.
Ductless units are recommended for small new additions to a house or for adding AC to a house where none exists. This is because even with the added cost for the units, it still can be less expensive than running ductwork.
IN THE BACKYARD: Outdoor Storage Ideas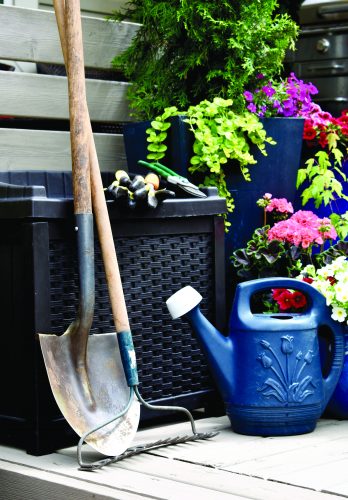 A plethora of multi-functional outdoor storage options have come on the market in the past few years, playing to consumers' need for pieces that make their outdoor spaces functional.
From pool accessories to garden supplies to outdoor dining necessities, an active outdoor lifestyle comes with a lot of gear. Keep it all tidy with a storage piece to suit your needs, or if you're handy, make your own.
Garden Supplies
An old hutch or a baby's changing table can be repurposed as a potting bench. If you have a garden shed, install a hanging canvas shoe rack on the door to store small garden tools and supplies, such as gloves and nippers. You can also install bathroom towels bars to the inside of the door to hold small tools by a hook.
Food and Drink
A storage cabinet with a hutch can be converted into a bar and serving station. Use the lower drawers or shelves for storage, or remove a lower shelf to make room for a small refrigerator. Add a stemware rack in the top.
If you know some basic woodworking, HGTV offers a DIY tutorial for making a hanging bar from wood pallets.
Pool gear
Stand a wood pallet on its side to store tall pool supplies, such as pool noodles and skimmers. Add coat hooks to the front to hang wet towels and goggles. Use stackable, open plastic storage bins to round up small items, such as diving sticks and rings, floaties and small toys. To wrangle inflatable pool rings, install small flagpoles on the side of your house or shed. Keep clean pool towels at hand in wall-mounted bath towel holders.
Add Storage Everywhere
When purchasing outdoor furniture items, look for storage features that can help keep the backyard tidy. Any existing outdoor piece can be turned into a place to store things, such as raised garden planters or beverage carts. Store extra patio furniture cushions under a coffee table. If you need extra outdoor seating, turn a sturdy solid wood bookcase on its side to make a storage bench, and add a cushion on the top.