By Bernard Freeman
Prepare your Home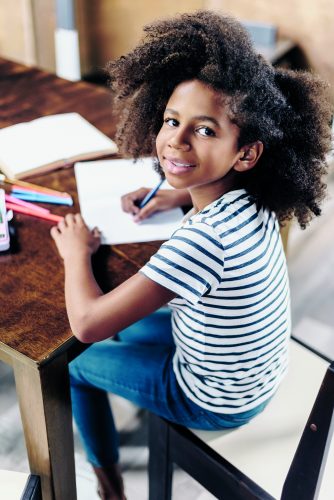 One of the most feared and dreaded parts of going back to school for many parents and
students is homework.
With the spread of COVID-19 without a cure, most school districts around the country have closed their facilities to students. Instead of going to school, your children will have to learn at home. Your children may think being at home is an extended break from school. A good way to prepare the house and your student for getting back into a school mindset is to prepare a part of your home as a designated homework area for students.
Homework can be stressful and time-consuming. A quiet part of the house in which a student can do homework can make all the difference in attitude and work pace. Remove distractions from the area that will take your child's attention away from their school work and homework.
Create a Shelf
As school progresses, papers and graded work can clutter in your child's backpack and folders. Your student can keep and save most of these papers to study for future tests or to help on homework down the road.
Your student will have various books that they may not need to use for school every day that can create clutter in their room. One simple way to help keep your home and your student's backpack clutter free is to create a shelf or space in your home where your children can keep those extra papers and books.
A weekly to monthly cleaning out will help to declutter and get rid of papers your child will not need.
Encouraging Students
Homework can be a stressful time for some students, so make it clear that it is important for your children that they do their best.
Encourage them, show interest and praise students for the work they do. If your child is showing signs of struggle when doing homework, contact your child's teacher to evaluate what could be done to help them.
Here are some ways you can help your child create some good study habits and prepare them to take on homework, according to understood.org.
Help your child identify distractions.
Teach your child how to create an effective study space.
Keep track of your child's strengths.
Work with your child's weaknesses.
Start making checklists with your child.
Help your child prioritize.
Teach your child specific study skills.
Creating an Escape
COVID-19 has affected the lives of many people. School and work from home can be stressful for everyone in the household. It is important that your family can escape the events going on in the world to have fun with one another.
As school progresses, homework may become overwhelming and stressful for your students. Remember that you control their hours while they are home. It is OK for you to give your children a little more time to sleep in or a longer lunch break.
While school is important, the mental state of your children is just as important. Creating an escape from school and the events of the world to let them get away can help to relax their minds.
Take Advantage of the Internet
The internet has an extensive amount of data and information. Find what your child's interest or hobbies are and explore online resources that will allow them to work on those hobbies.
Websites such as YouTube have many how-to-do videos. You can find various videos about gardening, building items, learning instruments, cooking and more. Screen time is important, but there also are many fun learning websites, documentaries and movies that can teach your child important life lessons.
There are other websites that contain downloadable PDFs on topics and hobbies your child might want to pursue. Supporting your child's hobbies and helping them explore their options is important.
Chasing passion projects
One of the advantages of being home is that your children may have more time to chase passion projects. These include skills or hobbies they may have wanted to get into but haven't had the time because of school and extracurricular activities.
YouTube contains various videos that can instruct your child on how to practice and learn these hobbies. If your child is struggling to find an escape from school, encouraging them to begin a passion project can be their greatest asset during these difficult times.
Teaching Life Skills
Along with having the time to chase passion projects, this is also a good time to create and sharpen life skills that will help your child down the road. Teaching and practicing things like cleaning, cooking, doing laundry and learning how to use hand tools can help your child find a hobby or prepare them for the road ahead.
Life will go on eventually, and taking advantage of being home will help them later. These life skills help build character and show them how to be more responsible. It's important to make sure your children understand they're not doing chores. They are building a foundation for their future lives.
Playing outside
Screen time and studying are very important while at home, but being outside and playing are just as important. Make sure your children get an appropriate amount of exercise each day. The CDC recommends that your child get about 60 minutes or more of physical activity a day.
Although it may sound like a lot, it's vital to their mental and physical health that they do. It is even more critical now that we are spending more time inside due to COVID-19. The CDC recommends making a physical activity part of your family's daily routine.
Activities such as walking, playing active games and playing with the dogs can all be effective. Taking your kids to places where they can be active like public parks, community baseball fields or basketball courts are all good ways to let your children freely be active.
Create a Routine
The routine your children had during school slowly faded during the summer break. Now that physically attending school is questionable due to COVID-19, your children must spend time to create and get into a school routine that will allow them to get work done while learning from home.
Daily Schedule
Attending school from home can feel like an extended vacation for your children. It's easy to be distracted by television, being at home and siblings. It's important that your student does well while attending online school from home so that they are not behind when school and life return to normal.
Time management when attending online school from home is crucial. Create a schedule for your kids to follow that will allow them to wake up at an appropriate time, attend online school and complete homework.
Plan lunch breaks and breaks for your children to relax a bit during school hours. It's important to make sure your kids stay in a school mindset.
Remember that it is okay to be flexible with the hours. Giving your children a little more time to relax or sleep is OK as long as they are getting their work done.
The Importance of Homework
Creating a time at home to get work done can help your children stay on track during this difficult period. The U.S. Department of Education says homework can help children develop strong study habits and positive attitudes. According to ed.gov, homework helps students:
Review and practice what they have covered in class.
Prepare for class the next day.
Learn to use resources, such as libraries, reference materials and websites.
Explore subjects more fully than classroom time permits.
Extend learning by applying skills they already have to new situations.
Integrate their learning by applying different skills to a single task, such as book reports or science projects.
Learn to manage time and meet deadlines.
Help with Homework
Parents can help their children with homework by setting a regular time and place for it that removes distractions that may interfere with their progress. The U.S. Department of Education advises parents to provide supplies, identify resources and show interest in what your child is learning.
Remember that communication with teachers and counselors at their school is very important for helping your child with homework. If your student is struggling at home, contact his teacher about online tutoring or work that can help your child sharpen their weaknesses.
Sleeping Better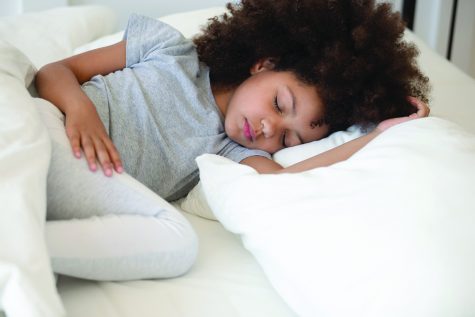 The United States Department of Health and Human Services advises children to get plentiful sleep each night. Sleeping is not only about the number of hours you sleep, but more about the quality of sleep that is gained each night.
Placing yourself and your children on a sleep schedule will make it easier for your body to get good quality sleep. Here is a list of the recommended hours of sleep various age groups should get each night, according to the HHS:
Most adults need seven to eight hours of good quality sleep on a regular schedule each night.
Preschoolers need to sleep between 10 and 13 hours a day, including naps.
School-aged children need nine to 12 hours of sleep each night.
Teens need eight to 10 hours of sleep each night.
Staying on a consistent sleeping schedule can benefit the body in a variety of ways. Good quality sleep reduces stress, can help you maintain a healthy weight, think more clearly and do better in school and at work. Sleep can also lower your risk for serious health problems such as diabetes and heart disease.
Talking to Kids about COVID-19
COVID-19 can be a very difficult topic to talk to your children about. It is important to help them understand what is going on in the world right now and why society is different than before the pandemic.
General Principles 
Your children may watch TV, listen to radio or read articles about COVID-19. It may be hard for them to understand what the virus is. They may have concerns for friends, family members or teachers.
Here is a guide to help adults have conversations about the coronavirus with their children and take preventative actions, according to the Centers for Disease Control.
Remain Calm and Reassuring
Remember that children will react to both what you say and how you say it. They will pick up cues from the conversations you have with them and with others.
Children often mimic their parents' reactions and emotions. By remaining calm, you'll help your child see that disease is something to take seriously but not something they have to be fearful or anxious about.
Make Yourself Available
Make time to talk. Be sure children know they can come to you when they have questions. This is good parenting advice any time, but it's especially important when children might be experiencing stress from the news they see about the public health crisis.
Pay Attention
Watch closely what children see and hear on television, radio or online. Reduce the amount of screen time focused on COVID-19. Too much information can lead to stress.
It's important for children to have accurate information, but they also could possibly obsess over the continually changing news.
Provide Accurate Information
Give information that is truthful and appropriate for the age and developmental level of the child. Talk to children about how some stories on COVID-19 on the internet and social media may be based on rumors and inaccurate information.
It is important to know where the stories are coming from and if those sources are reliable.
Reduce the Spread of Germs
Your children might find it odd that people all over the country aren't interacting with one another the same way.
Make sure your children understand that life is very different right now and there are extra precautions they need to take to protect themselves and other people.
Here is a list of topics you can speak to your child about regarding the prevention of the spread of germs, according to the CDC:
Do not touch your eyes, mouth or nose if you have not washed your hands.
Remind children to wash hands as often as they can.
Stay away from people who are coughing and sneezing.
Cough or sneeze into a tissue or elbow, then throw the tissue into the trash.
Discuss any new actions that may be taken at school to help protect children and school staff. Increased hand-washing and cancellation of events or activities are all possible when students return to school.